Comprehensive Assessment of Water Supply in Maryland
---
Water for Maryland's Future
Maryland's water supply comes from streams and rivers, groundwater, and reservoirs. In the Baltimore region and other metropolitan areas, the primary source of water is surface water (streams or reservoirs). Other communities use groundwater withdrawn from fractured rock aquifers in central and western Maryland or Coastal Plain aquifers in Southern Maryland and the Eastern Shore.
Water regulators, planners, and policy makers need to know how much water can be withdrawn from wells and streams without causing adverse impacts. The Advisory Committee on the Management and Protection of the State's Water Resources ("Wolman Report") recommended that the State conduct a comprehensive study of the water-supply resources of Maryland. This website presents information about the ongoing studies.
Fractured Rock and Coastal Plains Regions of Maryland
click regions for more information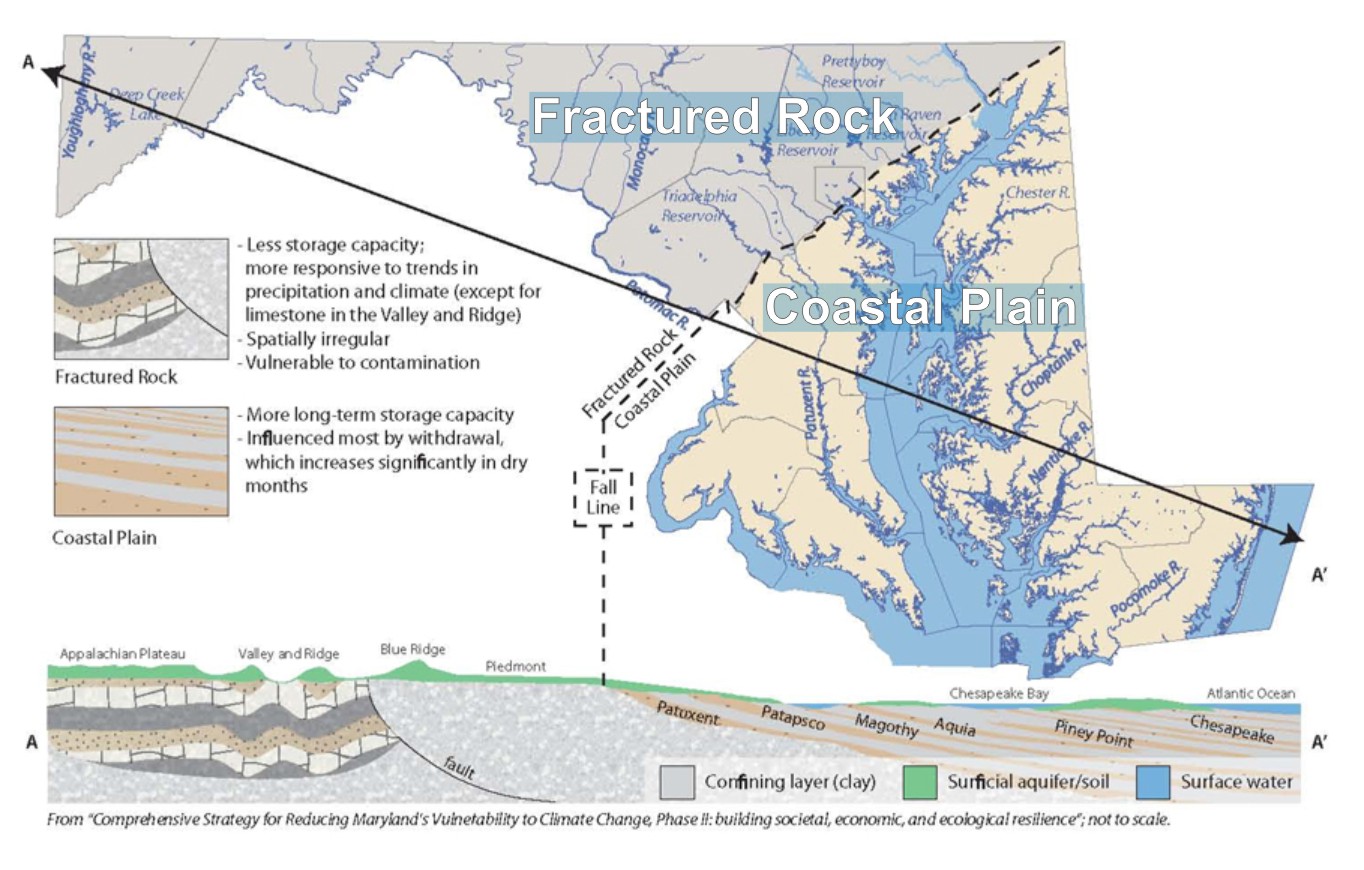 What are the challenges to managing water sustainability?

What needs to be done?

Who is involved?

Maryland's population will continue to grow

Patterns of land use could threaten the availability of clean water

Agricultural water use is expected to increase

Marylanders will compete for water

Water quality concerns may reduce the available supply of water

Climate change

Obtain better information and tools to:

estimate the availability of water

study the relationship between groundwater and streamflow

understand and predict water quality

Study hydrologic and geologic factors related to water supply

Understand and manage water use

Determine stream-flow requirements for ecological integrity

---

Coastal Plain Study Period: 2007 - Present

Fractured Rock Study Period: 2010 - Present




Studying the water resources of Maryland is a joint effort between the Maryland Department of the Environment, the Maryland Geological Survey, the U.S. Geological Survey Maryland Water Science Center, and the Maryland Department of Natural Resources.

For names and contact information of staff working on the project, click here.